In 1994 SCAE obtained its first Management System Certificate, conform to UNI EN ISO 9002:1994.
As an evolution, due to the Firm deeply rooted care to the quality of its products and processes, after three years came the certification following UNI EN ISO 9001:1994, one of the first amongst the Italian companies of its fields of application.
Since then, SCAE has always kept its certificates thru the years, conforming to the standards: UNI EN ISO 9001:2000, UNI EN ISO 9001:2008, and, finally UNI EN ISO 9001:2015.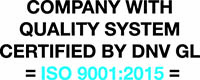 "Quality means doing it right when no one is looking."
Henry Ford